Law Office of Michael M. Kaplan
Not all personal injury attorneys are the same. Some are experienced and skilled trial attorneys who have the resources to aggressively pursue your claims. Others are only looking to settle your claim as quickly and cheaply as possible. For an aggressive and powerful attorney, call the Law Offices of Michael M. Kaplan today for a free consultation. You pay no attorney fees until we recover monies for you.
If you have been injured, you need a tenacious lawyer to fight for the compensation you need and deserve. Attorney Michael Kaplan is passionate and aggressive in and out of court. He works tirelessly to help clients obtain justice.
Confidence
Confidence directly impacts an attorney's ability to get the best result for his client. Michael Kaplan is an experienced personal injury trial attorney who has recovered more than $17 million tax-free dollars for injured victims. He has had over 1000 cases and over many trials. Opposing attorneys know his trial preparation is not settlement posturing.
Attorney Kaplan seeks to maximize the recovery through aggressive and ethical means. Our firm brings in expert witnesses to lay the groundwork for litigation, which solidifies the client's claim and increases its value. In order to maximize your claim and obtain a successful result, your lawyer must be willing to put in the preparation, time, and necessary expense.
Communication
An attorney must be able to communicate effectively with clients, witnesses, opposing attorneys, court personnel, and judges. Effective communication is the result of experience and preparation. All calls to our offices are answered within 24 hours, if not immediately. We recognize that injuries can occur at any time, so attorney Kaplan leaves his personal cell phone number with each client and on the firm's answering machine so he can be available 24 hours a day, seven days a week. Appointments are available on weekends and evenings.
Local News Article
Michael was recently featured in Massachusetts Lawyers Weekly about his efforts to help feed those hungry during the COVID-19 Pandemic of 2020-2021:
"About seven years ago, Michael M. Kaplan recognized a need in his "wonderfully diverse" community of Milford, where he maintains a Main Street law o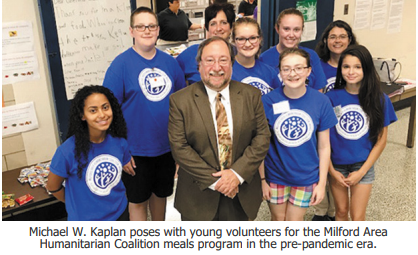 ffice. While Milford is a relatively small town — population approximately 28,000 — its challenges are a "microcosm of a big city," Kaplan says. Among those challenges is that the most nutritious meal some students get daily during the academic year is their free or subsidized school lunch, meaning that for the three months of summer break, there's a void in these students' lives. Rows of bags of food are ready to be picked up by those benefiting from the Milford Area Humanitarian Coalition meals program.
Kaplan, then president of the local Rotary Club, decided to marshal the resources to fill that void. Soon, the Milford Area Humanitarian Coalition, a full-fledged 501(c)(3) nonprofit organization, was born. The effort brought together local churches and groups such as the Rotary, Lions Club and Salvation Army, some of whom may have already been preparing meals as a community service but not on a coordinated basis."
Excerpt taken from Massachusetts Lawyers Weekly article. Please click here to read the full article.
Free Consultation • Available by Phone Around the Clock